How can you easily save at Christmas?
Christmas is definitely the most difficult season to save for… coming in straight after summer when you've probably been on holiday, enjoying yourself to the max! Now you've got to worry about gifts for your family and the big food shop, don't get us started on the decorations! It can certainly become a challenge.
But don't go all scrooge on us because we're going to share our 5 easy ways to save at Christmas!
Planning ahead
We know what you're thinking… how obvious right? But you'd be surprised how many people leave things till the last minute and end up in a tizzy! You can buy food in advance and just stick it in the freezer, this way you can spread shopping costs over a period of a month or so. Products like fish and meats can be frozen. Get all your little bits in advance and when it comes to shopping for the fresh start you won't have to go on a wild turkey chase for everything else.
With gifts, write yourself a list of people you want to buy for and set a budget for each! That way when it comes to it you'll know your limit. Take advantage of the offers or discount codes being plastered over the internet by retailers… they will really come in handy when staying within your budget!
For better organisation… Download our FREE Christmas budget planner to help you keep track of what you're spending so you can save at Christmas and stay within a budget!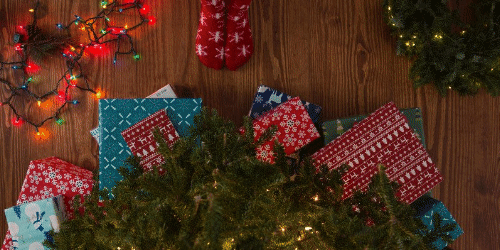 Arts and Crafts
Xmas decorations don't have to cost your week's salary… in fact it might be more fun to make them at home! There will be tonnes of YouTube videos with tutorials to help you, you could even out some blogs! In fact, check out this YouTube video for 15 DIY Christmas decorations!
Don't forget to recycle your last years wrapping paper and gift bags.
Christmas puddings
You might find that buying ingredients to make your own Xmas desserts is cheaper than buying actual ready-made puddings. Might be a fun task for you and the family to get involved in as well! There will be thousands of recipes and videos that you can follow online. Get cracking!
Why not try giving some of Jamie Oliver's Christmas dessert recipes a go! Yum, save us some!
Spreading (cheap) cheer
Have you ever visited a Christmas market? You can enjoy the best decorations and light displays as well as loads of yummy sweets and activities, and it doesn't cost a lot! You can make a day out of ti with friends and family to get you in the festive spirit.
If you need some inspiration, check out our blog on 7 of the best Christmas markets in Europe! Don't miss out!
Pay by cash
One simple way to help your budget is to learn to pay with cash… it's simpler than you think! Set yourself a weekly budget, or even a daily budget and get yourself to an ATM to withdraw that specific amount. Wherever you go make sure you take a safe amount of cash with you that you are willing to spend out of your budget. Leave your debit card at home, this way you won't be tempted to spend more!
For more on following a savings strategy, check out our blog page.
We hope this will help you to save at Christmas and stay within your budget!
Good luck and Merry Christmas.