With this pandemic in full swing and almost a 1/5 of the world's population under lockdown, many of us are spending a lot more time at home right now, including our working days.
Where we would normally be reporting to our desks, we're now finding ourselves slumped on the couch or perched at the kitchen table, trying to complete daily responsibilities without the built-in discipline of the office.
The expectations may be the same… but the environment is not. And it's not always a comfortable transition!
The key to being productive when working from home is to create an environment that allows you to focus on the tasks at hand.
So, without further ado, here are our 9 best ways to stay productive when working from home!
1. Breakfast
We know it might sound a bit ridiculous, but many studies have linked eating breakfast to good health, including better memory and concentration. It also gives you the energy you need to get things done and be able to focus throughout your working day.
Skipping the morning meal can throw off your body's rhythm of fasting, eating and energy providing. When you wake up, the blood sugar your body needs to make your muscles and brain work their best is usually low. If your body doesn't get that fuel it needs from food, you're more likely to run out of energy and overeat later in the day.
2. Get dressed
Many people think working from home means sitting around in your pyjamas with the tv on in the background… but, if you want to have a productive day, you need to get out of this mindset.
Just like in an office setting, you have to set yourself up for success when working from home. We don't mean a full three-piece suit but it's important you are getting yourself up and dressed.
Set a morning routine of having your breakfast, making your morning cup of tea/coffee, getting dressed and whatever else you need to get in the right frame of mind.
3. Check that everything is working
There's nothing worse than starting your working from home day and your internet isn't working or your devices need updating, it just causes unnecessary stress! So make sure before you have to get on that morning video call with your boss, that everything is in order to start your productive day right!
4. Makeshift workspace
It's important to have your own makeshift workspace and it really depends on how you want your day to pan out! The home office serves a great purpose where it feels like a regular working day, but it isn't for everybody all the time.
Determine how you usually divide up your day. For example, are you more creative in the morning? You may want to spend that time at a desk/table where you have the space to brainstorm, write or design. Are your afternoons spent sifting through emails or doing research where you may want to sit in a comfy chair… the home is your oyster!
5. Plan your day
Whether you're working in an office or working from home, to get yourself organised you need to plan out your daily schedule. Some people like to get creative with a calendar and colours and some just like to write a list that they can tick off.
Establish your starting time, midday break (lunch break), any coffee breaks you might need and what time you'll be clocking out at the end of the day. This will help you to keep on track with your daily workload and it will also give you a sense of fulfilment when you get to the end of your productive day!
6. Give your full attention
It's too easy to become distracted by the things going on around you… especially when you're in your own home and you have pets or children or family members that want to facetime! And though some agree this kind of attention helps them get through the day, sometimes you need to know when it's time to dedicate a couple of hours to cracking on.
This means, switching off your personal mobile for a couple hours and letting those in your house know that during a certain time you need not to be disturbed. Eliminate all distractions, just for a couple hours and you will get a lot more done than you thought!
7. Remember to take breaks
Have you ever heard of The Pomodoro Method? The Pomodoro Method was conducted by Alejandro Lleras, a Psychology Professor from the University of Illinois. His research showed that deactivating and reactivating work allows the brain to stay focused for long periods of time.
Taking strategic breaks, will increase your quality of work.
So we suggest, for you to stay productive when working from home, you remember to take regular interval breaks. This may include, stepping away from your computer, having a stretch, going for a run or simply giving your pet some attention!
8. Have catch up meetings with your team
It's not only important for your social well-being, but potentially your workflow too! Make sure that you are checking in with your team as much as you can, treat it like a normal work day!
You could suggest daily catch up video calls to make sure everything is in check and… you never know what they may be able to help you with, visa versa!
9. Log off.
One of the most important aspects of a healthy work-from-home routine is creating boundaries. It's easy to continue working through the evening when you're already at home. Log off for the day – and not just from your laptop.
More importantly, you should consider developing a phrase that you can say to yourself at the end of the day to signal your brain that it's time to stop thinking about work.
Just because you have access to work anytime, doesn't mean you should be logged in 24/7. Allow yourself to have downtime to create a work-life balance – we all need it, no matter where we are working.
User Generated Content
We did a little bit of research via our social medias by asking our followers, what is keeping you sane whilst working from home? And here are our results…
2.2% – voted that they keep sane whilst working from home by socialising as often as they can, be it video chat or phone call, with their loved ones!
13% – voted that they keep sane whilst working from home through keeping up with exercise, whether that means doing some yoga on their break or going for a little walk!
13% – voted that they keep sane whilst working from home by having their pets around to give attention to!
71.7% – voted that they keep sane whilst working from home by getting up and getting dressed!
So the clear winner in our vote-off was that it helps some individuals to get up, get dressed and get cracking. Here is the pie-chart for these results: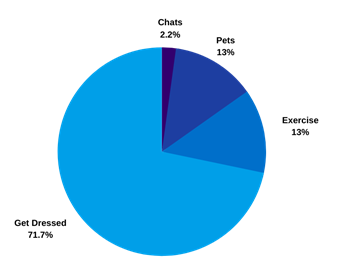 We hope you found our how to stay productive when working from home blog useful and will be taking away some tips for your own benefits. If you have any more suggestions, we would love to hear them so please get in touch via one of our social medias!
Our aims is to keep you as updated and comfortable as possible during this time because we need to stick together! Recently we're aware there has been some conspiracies about the transfer of germs through the use of cash… if you are interested in learning more about this topic, have a read of our blog prior, is Coronavirus spreading through cash?.