When booking a holiday abroad, there's a lot to consider… from what clothes to pack and shoes to bring, to the more essential stuff like sun cream and toiletries. One of the most important things to consider when you're off on holiday is how you're going to pay!
I booked 2 weeks away in Italy, so as a Euronet employee it made sense to put Euronet to the test to see what it's like using an ATM in a foreign country and paying my way in Italy! My travels took me to Florence, Pisa, Rome, and Cefalu.
Paying my way in Italy…
Visiting Florence, Pisa and Rome, it's fair to say that contactless/card was the favourite payment choice. This didn't stop me from paying with cash in Italy though, as it was a much easier way to budget my money out there. Using cash to pay for dinner, drinks, museum tours etc. wasn't an issue at all. This is well worth knowing if you're planning on travelling to Italy and want to stick to a budget.
I hit a little bump in the road, during my second week when I travelled to Cefalu in Sicily. I was staying at a hotel in Campofelice, which was about a 20-minute drive from the town of Cefalu. Campofelice has little around it, so the hotel had a shuttle bus that ran daily to the two nearest towns. I decided to venture into Cefalu for a change of scenery and asked the reception desk if the shuttle driver would take card, but it was cash only… and when I asked for directions to the nearest ATM, the nearest one was in Cefalu! Nightmare.
Fortunately, the shuttle bus driver was kind enough to let me pay him on the return journey to the hotel. On arriving in Cefalu, I was greeted with a Euronet ATM. I knew I could safely get out some more cash, so I made sure I got enough to last me the rest of the holiday, just to be safe!
When I got back, I visited the hotel shop to stock up on toiletries, luckily, they took card payments. But, the POS machine took nearly 5 minutes to process the payment due to bad signal. It only went through because the poor cashier did the Wi-Fi signal dance (waving the machine in the air and walking around the shop). She had to do this more than once for other customers using card as well. I was completely baffled as to why the hotel didn't have an ATM!
What was my experience like with a Euronet ATM…
Getting money out in a foreign country can be quite daunting; you have to be aware of your surroundings, pay attention to the screen and make sure you understand what you are/aren't accepting.
I wanted to experience a Euronet ATM as a traveller, rather than a Euronet employee. One thing I can say for sure, contrary to online comments and feedback, Euronet ATMs do clearly display and explain every fee on the screen before charging anything…
But in the spirit of honesty, I made sure I took my time to read everything on the screen. We've all heard stories of people taking too long at the cash machine and having their card swallowed right? So naturally there's a sense of urgency when trying to get cash out and it can be difficult to take in all the information displayed on the screen. That being said, I can personally vouch that Euronet are transparent and do believe they want to make sure the end-user has all the details needed to proceed with their transaction.
It goes without saying that because I work for an ATM company, I'm somewhat clued up on how they work and the different types of charges, but not everyone has that benefit. If you are unsure of what DCC is or what you're being charged for then take a look at our blog "Fees at the ATM".
What I learned from my experience using an ATM in a foreign country…
Make sure when using any ATM that you are…
1) aware of your surroundings.
2) paying attention to the screen.
More specifically, make sure that before you press accept, you focus on the 'your account charge' section. This is where the ATM will tell you exactly how much will be debited from your account in the currency you've chosen.
Don't forget, the transaction will only go ahead if you physically agree to the fees and charges.
Advice to anyone travelling in 2022…
As always, it's important to stay safe and clue yourself up on the currency of the country you're travelling to. We all know that 1 pound sterling is near enough to 1 euro, but don't be caught by surprise when you go to withdraw 450 Kuna in Croatia and it's only equivalent to £50!
Do some research before you go… Avoid rushing when getting cash out, take your time to digest all of the information on the screen… And lastly, keep your options open! Don't rely solely on one payment method to get you by for your whole trip. Take cash and card with you so you are prepared for any situation, whether it be cashless or cash only.
Enjoy a collage of my personal ATM tour in Italy! (Yes, I did get some funny looks… can't blame them really.)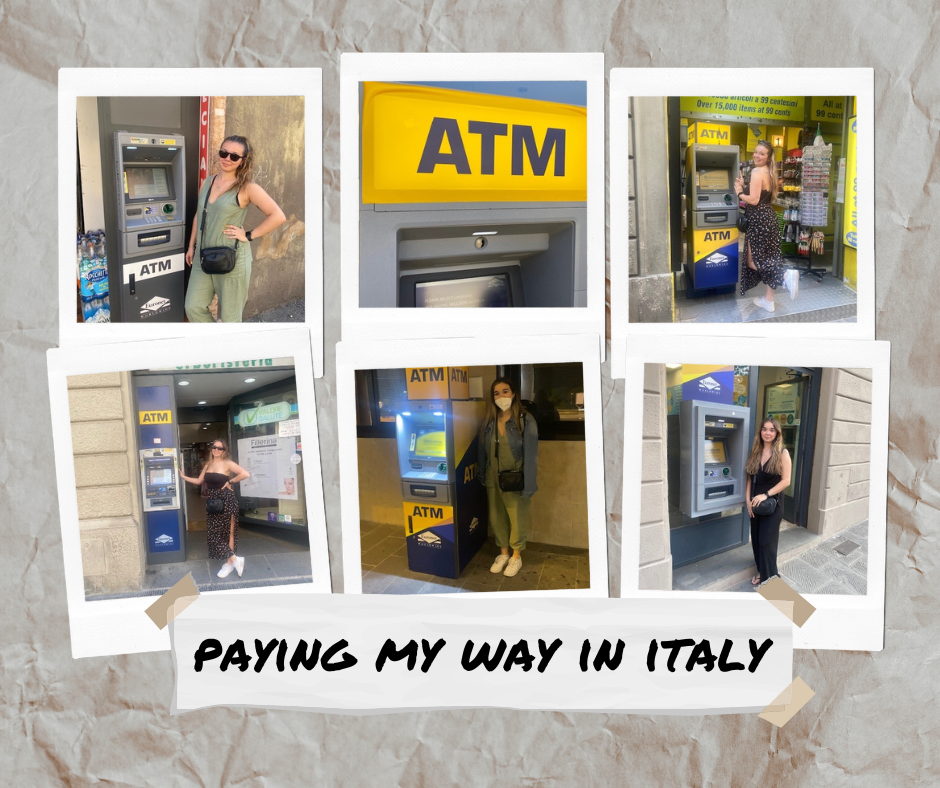 Written by Ellyce Doggrell, Social Media Exec at Euronet.