EMPLOYEE AND CANDIDATE PRIVACY NOTICE
The Company is committed to complying with applicable regulations on personal data protection. To achieve this it has introduced both at an organisational and a technical level, procedures and policies which guarantee a suitable level of data protection by virtue of prevailing legislation including but not limited to the European General Data Protection Regulation (GDPR), and any other privacy laws and regulations applicable to the international transfer of personal data.
The Company wishes to inform you of its Privacy Policy to explain how we collect and use the personal data we obtain within the framework of our recruitment process, as well as how we share your information and the security measures adopted.
It is important that you read this. This is to inform you of how and why we are using such information. What we will process about you will vary depending on your specific role and personal circumstances.
1. DATA CONTROLLER
Euronet Worldwide, Inc. (Hereinafter, the "Company")
Address: 7th Floor North Block
55 Baker Street
London
W1U 7EU
United Kingdom
E-mail: dpo@euronetworldwide.com
2. PURPOSES, LAWFULNESS AND TYPE OF PROCESSING
Our purpose for processing your personal data is to either assess your suitability for a role in our Company.
We will use Personal Data and any other additional data that might be required, either during the selection process for the purposes established below: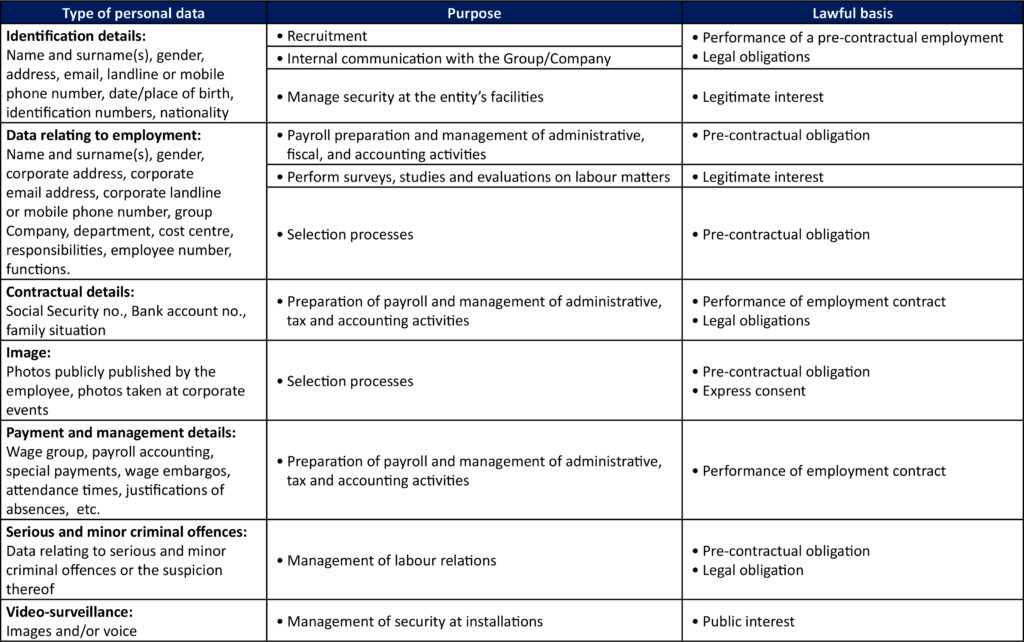 3. HOW DO WE OBTAIN YOUR PERSONAL DATA
All the personal data the Company process is obtained as follows:
Provided by you directly
Obtained by third parties during the selection process, solely for professional purposes. In no case shall data unrelated to the professional life of the candidate and/or employee be obtained from social media and/or third parties
You will be informed at all times of the different data we process and how you may exercise your rights to access, limit or erase the personal data we process about you.
When your personal data has not been directly provided by you, the Company ensures you will be informed of the processing to be carried out, the type of data to be processed as well your rights within a reasonable time period after obtaining the personal data.
4. STORAGE PERIOD
We will retain your personal information for the duration of the recruitment process and for a maximum of two (2) years, or for the length of any applicable limitation period for claims which might be brought against us later. We might retain your data for an additional period of two (2) years upon your explicit consent.
5. SHARING PERSONAL DATA
5.1 The Company may share your personal data to any Euronet Group Company (more information at: www.euronetworldwide.com) for the following purposes:
Internal administrative purposes;
Inclusion in professional development programmes;
Management and global planning of human resources;
Creation of a global base of employees and executives;
Compliance with legal obligations of the Euronet Group.
The legal basis for this type of communication between group entities is legitimate interest. For more information on this processing and communication you can email the DPO at dpo@euronetworldwide.com.
5.2 The Company may share your personal data with any third party that provides the Company and/or any Euronet Group company with services provided that said notification is necessary to comply with the different legal and/or contractual obligations of the Company.
On an informative basis, but not limited thereto, your personal data may be communicated to:
6. INTERNATIONAL TRANSFERS
The Company, to the extent possible, shall endeavour to use service providers that are located in the European Economic Area ("EEA"), so that your data are not transferred to third parties outside of the EEA or, in the event that you are outside of the EEA, your data will be processed in the country of origin to the extent possible.
However, the communication of your personal data between Euronet group companies may imply the international transfer of your personal data. To this end, the Company guarantees that these communications comply with all legal requirements and obligations established in applicable regulations at all times.
In addition, necessary security measures have been adopted to ensure your personal data are correctly safeguarded.
7. RIGHTS
You are entitled to request access, update, modify and limit the use of your personal data stored on Company systems. A request to exercise your rights must be accompanied by a copy of an official document that identifies you (National ID card, driver's licence or passport), in order to verify your identity.
To exercise any of your rights pursuant to the provisions of applicable regulations on data protection you may send a request by contacting the Euronet Data Protection Officer at the following email address: dpo@euronetworldwide.com. You may also exercise your right by mail addressed to Calle Cantabria, nº. 2 – Piso 2º 28108, Alcobendas, Madrid, Spain.
Employees are entitled to:
Request access to all personal data stored by the Company on the specific owner of the data along with related information including for personal data processing purposes, the recipients or categories of recipient with which the personal data have been shared and the existence of automated decision making;
Obtain the rectification of the personal data requested without delay;
Request that your personal data be erased where the Company no longer needs to comply with any legal obligation in compliance with prevailing legislation, or for the establishment, exercise or defence of a legal right;
In certain circumstances, prevent or restrict the processing of your personal data unless this processing is necessary for the establishment, exercise or defence of a legal right; and
In certain cases, request the portability of your personal data directly from a third party when this is technically viable.